Monday 20th April 2020
Hello Lower Key Stage 2,
We hope you all had a lovely Easter!
For daily challenges and work from now on please see your class teacher's class dojo message and refer to your own class pages. For now, there will be no more daily challenges put up here. You can send your work through to the enquiries@smp.dsat.education email address or to make it quicker and easier for your class teacher to see it, send through Class Dojo.
We've loved everyone's responses to the challenges, well done for staying focused.
Friday 3rd April 2020
The last challenge of the half term! We'll be taking a break over the Easter holidays and will continue to upload challenges on Monday 20th April 2020.
Queen Esmerelda's Coins
Queen Esmerelda had 20 gold coins.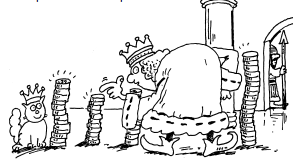 She put them in four piles.
The first pile ha four more coins than the second.
The second pile had one less coin than the third.
The fourth pile had twice as many coins as the second.
How many gold coins did Queen Esmerelda put in each pile?
Helpful Hint: It might be useful to draw yourself 20 coins. Using trial and error will help.
Extra Challenge: Can you come up with your own problem similar to this one?
Take a picture of you working this our if you used actual coins or drawings or submit your answers via the guestbook.
Thursday 2nd April 2020
Neighbours.... everyone needs good neighbours!
In this challenge you need to use the numbers 1 to 6 fill in the circles.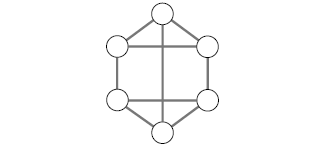 However! Consecutive numbers must not be joined for example 3 must not be connected to 2 or 4.
This will require you to use trial and error to complete the pattern.
Good Luck! I'm looking forward to seeing your examples photographed and emailed to enquiries@smp.dsat.education
Helpful Hint: Put a number in the top and think of the 3 numbers it can joined to.
Challenge: Are there any other posibilities?
Wednesday 1st April 2020

Card Tricks
Chico's cards are all different.
There is a number from 1 to 8 on each card.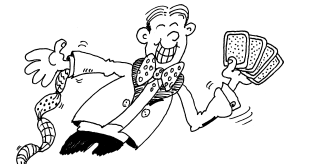 Chico had chosen four cards that add up to 20.
What are they?
There are seven different possibilities.
Can you find them all?
What is Chico has three cards that add up to 16? What cards could he pick?
Helpful Hint: It might be useful to make yourself some number cards or you could us the 1 to 8 cards from a deck of cards.
Tuesday 31st March 2020
Three Monkeys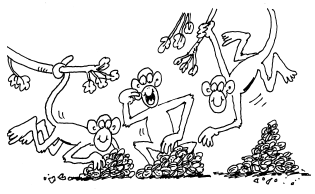 Three monkeys ate some nuts.
They all ate different amount nuts.
Each monkey ate an odd number of nuts.
The total number of nuts they ate together was 25.
Can you find all the possibilities for how many nuts each monkey ate?
Helpful Hint: It might help to draw the 25 nuts or use something else like jelly beans and split them into 3 piles. Make sure each pile is an odd number, remember odd numbers are any number ending in 1, 3, 5, 7 or 9.
Monday 30th March 2020
Susie the Snake
Susie the snake has up to 20 eggs.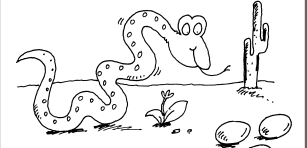 She counted her eggs in fours and had 3 left over.
She counted them in fives and had 4 left over.
How many eggs did Suzie have?
Don't forget to email your responses to equiries@smp.dsat.education or use the guestbook or you can now submit answers directly to your teacher through Class Dojo.
Helpful Hint: Try listing some times tables and adding on to each of them the left overs. You might see a common number.
Can you find all the solutions if we use the same rules but say that Susie has up to 50 eggs?
Friday 27th March 2020
Spaceship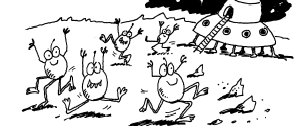 Some Tripods and Bipods flew from planet Zeno.
There were at least two of each of them.
Tripods have 3 legs.
Bipods have 2 legs.
There were 23 legs altogether.
How many Tripods were there?
How many Bipods were there?
Find two different answers.
Helpful Hint: it might be good to list the times tables or draw some pictures of the Tripods and Bipods to help.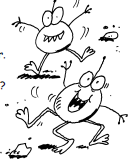 Thursday 26th March 2020
Dan the Detective
Dan the detective looked for a number.
He found a two-digit number less than 50.
The sum of its digits was 12.
Their difference was 4.
What number did Dan find?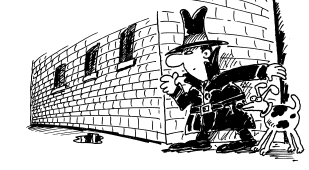 Dan found a two digit odd number.
One of its digits was half the other.
The number was greater than 50.
What number did Dan find?
Wednesday 25th March 2020
Rows of Coins


Take 5 coins: 1p, 2p, 5p, 10p, 20p.
Put them in a row using these clues.
The total of the first three coins is 27p.

The total of the last three coins is 31p.

The last coin is double the value of the first coin.
Take six coins; 2 x 1p, 2 x 2p and 2 x 5p.
Put them in a row using these clues.
Between the two 1p coins there is one coin.

Between the two 2p cons there are two coins.

Between the two 5p coins there are three coins.
Take a picture of your coins lined up and email them to enquiries@smp.dsat.education
Added challenge, what if you take two 10p coins as well, and between them are four coins.
You could create your own problem with clues to help someone solve it.
Tuesday 24th March 2020

Roly Poly

Imagine rolling a 6 sided dice. The score of your dice is the numbers you can see on each side added together.
What could the highest possible score be?
What could the lowest possible score be?
What number would be face down on the table if you scored 17?
Now imagine rolling two dice at the same time. They land separately and do not touch. The score of the dice is 30. What numbers could be face down?
Helpful hint - you could make your own dice by drawing the picture below on a piece of paper and cutting it out and sticking together, then writing the numbers on the side. Alternatively, use a dice from a game you have already.
Monday 23rd March 2020
Mr Walker buys 3 new tracksuits in different colours, all the trendiest of course!
He can wear a combination of different coloured tracksuit tops and bottoms. He has a red tracksuit, blue tracksuit and a green tracksuit (you could change the colours) using Act It out from Stops Maths! Can you show the different combinations of tracksuits Mr Walker could wear?

Helpful Hint- start with 1 colour and then add another and another! Can you see a pattern?
if you finish, why not add extra colours and predict how many different combinations there are!
You can email a picture to enquiries@smp.dsat.education or send your replies via the guest book below.


Comments (44)
Show Comments
Cavan
(a couple of years ago)
The first answer is 9 the second answer is 4 the third is 5 the fourth is 8
Harry Cole
(a couple of years ago)
My solution: Pile 1 - 7 coins Pile 2 - 3 coins Pile 3 - 4 coins Pile 4 - 6 coins
Cavan
(a couple of years ago)
1 3 5 2 4 6
Brannon
(a couple of years ago)
Wednesday challenge 8+7+3+2=20 8+6+5+1=20 6+7+5+2=20 5+4+8+3=20 8+1+5+6=20 6+7+5+2=20 3+6+7+4=20
Cavan
(a couple of years ago)
1 3 4 7/2 4 5 6/1 2 5 8/2 5 7 8/ 5 4 1 2/ 4 5 8 3/ 3 2 1 6 5 7 4/8 3 /
Lola B
(a couple of years ago)
I worked hard with by Dad to solve card tricks. It was quite hard!
Brannon
(a couple of years ago)
Tuesday 7 9 9
Cavan
(a couple of years ago)
Tuesday the first number it 7 the second 9 the third 9 again
Grace
(a couple of years ago)
THE SNAKE HAD 19 EGGS.
Cavan
(a couple of years ago)
The first question 19 eggs ,the second answer is 49 eggs
Show More Comments