Power of Reading Resources
The Power of Reading is something that has been developed by the CLPE (Centre forLiteracy in Primary Education). They provide teachers with a list of high quality texts and material to read along with lesson plans and suggested ideas to help children develop their love of reading.
We regularly use the CLPE to find books that the children will love to read and engage with and write about. As part of their home learning offer they have produced a resource called 'Take 5'.
The resources focus on 5 key principles outlined below;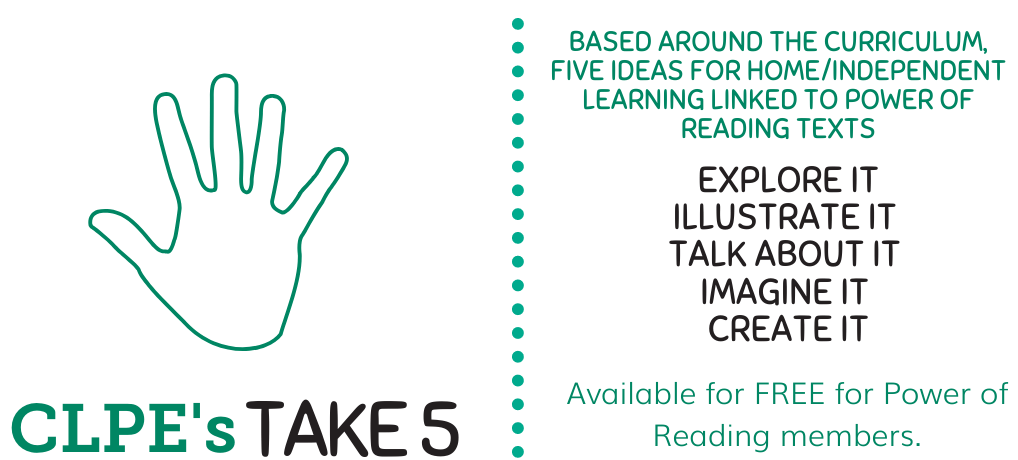 The resources are a guide to the text and are designed to really engage the children in meaningul texts that are pitched at the age appropriate level.
The documents are available below to download, each stage across school has 2 'Take 5' booklets which can be downloaded and used accordingly. Each document has an extract from the books for the children to read which will enable them to move onto the activities.
| Name | |
| --- | --- |
| Take 5_EYFS_Beware of the Crocodile by Jenkins and Kitamura.pdf | Download |
| Take 5_year EYFS_ Bedtime for Monsters by Ed Vere.pdf | Download |
| Take 5_Year1_2_Anna Hibiscus by Atinuke and Lauren Tobia.pdf | Download |
| Take 5_Year1_2_How to Find Gold by Viviane Schwarz.pdf | Download |
| Take 5_Year3_4_Arthur and the Golden Rope by Joe Todd Stanton.pdf | Download |
| Take 5_Year3_4_Oliver and the Seawigs by Philip Reeve and Sarah McIntyre.pdf | Download |
| Take 5_Year5_6_Cosmic by Frank Cottrell Boyce_0.pdf | Download |
| Take 5_Year5_6_Street Child by Berlie Doherty.pdf | Download |
Showing 1-8 of 8